MetaVue Imaging System: Cost-Effective Bioimaging
The MetaVue™ Imaging System is the cost-effective solution for basic imaging applications such as digital photography, multi-wavelength fluorescence, image processing and image analysis. MetaVue is a simple, easy-to-use system for acquiring and processing images, performing graphics functions, and archiving and retrieving images.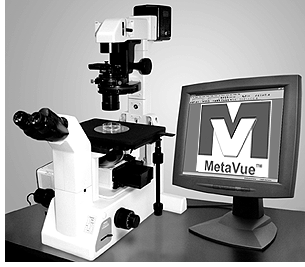 A Typical MetaVue Imaging System
For multi-mode microscopy, MetaVue is able to acquire multiple fluorescence wavelengths combined with a transmitted light image. Images can be stacked into one file and saved as a Stack file format, then processed or measured all at once in one easy step.
With the MetaVue system's modular architecture, expanding the software is simple and allows the system to grow as your imaging needs change. Compatibility with MetaMorph® and MetaFluor® offers a well-defined upgrade path.
Digital CCD cameras, both monochrome and color, including: cooled, full frame, frame transfer, interline, back thinned, intensified and on-chip multiplication gain, from major manufacturers
Video cameras, both monochrome and color, including: RS-170, CCIR, on-chip integration, intensified, CCD and tube, from major manufacturers
Binary, 8-, 16-, 24- and 48-bit (RGB) image and stack display and processing including arithmetic operations, shading correction and background subtraction
Binary image morphology operators
Color combine and color separate 24- or 48-bit images
Region of interest tools
Auto-expose from digital cameras
Image annotation
QuickTime

®

or AVI formats for the creation of movies
Image histogram
Customizable toolbars and windows
Data logging to text file or spreadsheet programs such as Microsoft Excel®
Automation through journals and taskbars
Morphometry analysis
Brightness measurements
Image overlays
QuickTime is a trademark of Apple, Inc., Cupertino, CA.
Microsoft and Excel are registered trademarks of Microsoft Corporation, Redmond, WA.
The trademarks to MetaFluor, MetaMorph, and MetaVue are the property of Molecular Devices, LLC.